St. Nicholas develops a community of lifelong learners who are internationally minded and true global citizens. Students who learn that through collaboration, they can work together to make the world a better place.
The Learner Profile
lies at the heart of becoming an internationally minded person. By striving to develop these attributes, we value qualities that bind us together, across culture, language and experience. The attributes of the Learner Profile equip us with the abilities to understand ourselves and connect with others in the spirit of peace and understanding.
Multilingualism Students
experience authentic and effective language learning of more than one language. Moreover, students are exposed to an even wider range of languages, both inside and outside the classroom experience, resulting in the celebration of language diversity and multilingualism.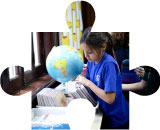 Intercultural Understanding
The school fosters understanding of students' own culture as well as the perspectives of others. The curriculum provides opportunities to develop deeper understanding of different perspectives of belief systems, experiences, and ways of being. Through friendship and peer collaborations, students actively develop the interpersonal skills to understand, collaborate and communicate effectively with people from other cultures, countries or beliefs.
Making a Difference
Young children develop an appreciation for others, their own community and the World around them. As they continue through the school, they are exposed to issues of both local and global significance. Their appreciation turns to passion and they develop the attitudes and skills necessary to take action. St. Nicholas students become citizens who have a global perspective and are prepared to make a difference in the world.