Globally there are more than 120.000 IB Diploma Programme students of which over 60.000 sit the Full Diploma. These students have excellent breadth and depth of knowledge – students who flourish physically, intellectually, emotionally and ethically.
It is offered for students aged 16 to 18.

Dynamic teachers from Brazil and around the world Committed teachers love working at St. Nicholas School. We invest in Professional Learning Communities and networks because we believe learning starts with us and that we learn for others.
Inclusive and Challenging for all students As all our students have talents and are capable, all students at St. Nicholas take the Full Diploma.
The DP curriculum is made up six subject groups. St. Nicholas offers a wide range of courses within each subject group. All students at St. Nicholas School sit the full Diploma. Each year Students achieve over 40 points and the average score is normally around 32 or 33 points – this is above the world average.
The DP Subjects offered at St. Nicholas

Through the DP Core, students reflect on the nature of knowledge, complete independent research and undertake a project that often involves community service. And the DP Core, comprising Theory of Knowledge (TOK), Creativity, Action and Service (CAS) and the Extended Essay.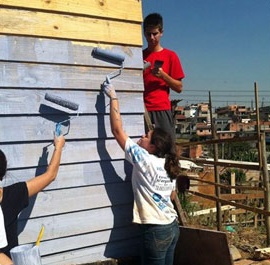 Life Beyond School At St. Nicholas we prepare students for successful study beyond school. Comprehensive and personalised university guidance for both Brazil and international Universities has resulted in St. Nicholas students gaining acceptance at top universities around the world.
Students who have the confidence and the ability to chart the modern life and work environments require rigorous attention to developing life and career skills. Students from St. Nicholas not only go to the universities of their choice but they are successful, earning excellent degrees.